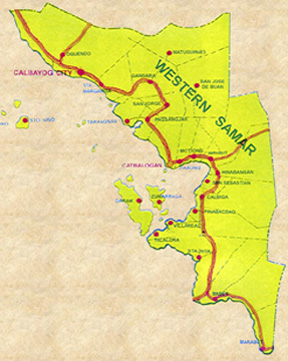 PROVINCE OF SAMAR


LOCATION

Samar Province is 802 kilometers from Manila. It lies southeast of Luzon and occupies the westernmost section of the Samar Island. To the north, it is bounded by the province of Northern Samar; on the east by the province of Eastern Samar; to the west by the Samar Sea and to the south by the Leyte Gulf.


AREA

Samar Island has an overall area of 1,342,863 hectares. The province of Samar has the largest area comprising about 559,100 hectares of 42% of the island's total land area.

Table 1. Status of land Classification Land Classification 1985 1986-1994 Total Land Area Alienable and Disposable Land _a/ 559100 559100 Total Forest Land 210311 210311 Unclassified Forest Land 177771 - Classified Forest Land 32540 210311 Forest Reserves 11580 12744 Timberland b/ - 172250 National Parks 840 840 Military Reservation - 63 Civil Reservation 20120 20120 Fishpond Development - 4294 Table 2. Land Area by Municipality Municipality Land Area (Sq. Km) Almagro 372.2 Basey 67.7 Calbayog City 143.6 Calbiga 189.0 Catbalogan 174.4 Daram 103.4 Gandara 573.5 Hinabangan 372.2 Jiabong 67.7 Marabut 143.6 Matuguinao 189.0 Motiong 174.4 Pagsanghan 30.0 Pinabacdao 82.4 San Jorge 241.2 San Jose de Buan 366.9 San Sebastian 27.3 Sta. Margarita 144.4 Sta. Rita 222.5 Sto. Nino 29.5 Tagapul-an 28.7 Talalora 28.0 Tarangnan 132.5 Villareal 98.5 Wright 457.4 Zumarraga 38.6 Table 3. Status of Irrigation System Total Arable Area Potential Irrigable area Existing Service Area 167,606 15,782 has. 2,134 Has.


TOPOGRAPHY

The Physical environment of Samar includes almost every kind of topography: mountains, forests, rivers, lakes, plains, coasts and islands. It has a much lower highland system compared to other provinces. The central upland core is formed from a broad plateau with local relief sight ranging from 700 to 1,000 feet. Numerous streams in the island have cut sharp valleys on the surface of this plateau and the overall landscape is hilly and rugged.

The province of Samar has 25 municipalities and a chartered city, the City of Calbayog with 949 barangays. Most of these municipalities are along the coast. The capital town of Samar province is Catbalogan which is also an important seaport facing the Maqueda Bay.


CLIMATE

The province of Samar has no distinct dry and wet season. Rainfall is more or less evenly distributed throughout the year.

Relative to its location, Samar province serves as a reference point for tropical cyclones occurrences as it is within the typhoon path/belt. However, it doesn't mean that the province is frequently hit by tropical cyclone (Tropical Depression, Storm and Typhoon).

A 45-year data on Tropical Cyclones Incidence in the Philippine Area of Responsibility shows that out of the total 315 tropical cyclones, 22% of 70 cyclones actually hit the province or an average of 1.5 tropical cyclone per year compared to Luzon area which is about 5.4 tropical cyclone per year which comprises about 78% (245) of the total cyclone incidence within the specified period.

POLITICAL SUBDIVISIONS

Prior to the approval of Republic Act No. 4221 on June 19, 1965, Samar province comprised the whole island of Samar. Under this act, the western portion was created as a separate province named Western Samar. A subsequent legislation (Republic Act No. 5650) however, changed the name of the province of Samar on June 21, 1969. Samar is connected with the province of Leyte thru Marcos Bridge on the southwest across the San Juanico strait.

Table 4. List of Municipalities and Barangays Municipality Number of Barangays Almagro 23 Basey 51 Calbayog City 157 Calbiga 41 Catbalogan 57 Daram 58 Gandara 69 Hinabangan 21 Jiabong 34 Marabut 24 Matuguinao 20 Motiong 30 Pagsanghan 13 Pinabacdao 24 San Jorge 41 San Jose de Buan 14 San Sebastian 14 Sta. Margarita 36 Sta. Rita 38 Sto. Niño 13 Tagapul-an 14 Talalora 11 Tarangnan 41 Villareal 38 Wright 44 Zumarraga 25 Table 5. PROVINCIAL SITUATIONER (CY JULY' 97-JUNE 1998) COMMODITY SUPPLY (MT) DEMAND (MT) SURPLUS/DEFICIT RICE 19,155 70,928 (51,773) WHITE CORN 3,831 3,750 82 VEGETABLES 339 24,294 (23,955) ROOTCROPS 11,491 13,113 (1,622) PORK 1,390.58 3,918 (2,527) BEEF 124 548 (424) CARABEEF 415 997 (582) CHICKEN MEAT 618 2,516 (1,899) CHICKEN EGGS 20.46 1,651 (1,630)

POPULATION

The 1990 Census on Population registered a total of 533,733 inhabitants for the province of Samar in 102,038 households. Males outnumbered females to a ratio of 101 males for every 100 females.

Table 6. Total Population and Number of Household Municipality Total Population No. of Household Almagro 10,270 2,047 Basey 40,114 8,428 Calbayog City 129,216 25,713 Calbiga 18,070 3,664 Catbalogan 76,324 14,654 Daram 33,745 6,294 Gandara 27,263 5,454 Hinabangan 12,151 2,174 Jiabong 15,484 2,853 Marabut 10,355 2,040 Matuguinao 5,205 951 Motiong 13,177 2,499 Pinabacdao 11,590 2,256 San Jose De Buan 5,471 1,158 San Sebastian 6,381 1,250 Sta. Margarita 19,146 3,889 Sta. Rita 28,930 5,690 Sto. Niño 12,761 2,601 Talalora 6,565 1,250 Tarangnan 18,791 3,694 Villareal 22,390 4,232 Paranas (Wright) 24,235 4,689 Zumarraga 14,505 2,715 Tagapul-an 7,949 1,598 San Jorge 11,935 2,360 Pagsanghan 7,350 1,340

ROADS AND BRIDGES

The Maharlika Highway links Samar to Luzon and Mindanao with barges available in Allen, Northern Samar crossing San Bernardino Strait to Bicol in going north. On the other hand, passage to Mindanao is through Tacloban City with a ferryboat ride in Liloan, Southern Leyte in crossing to Surigao.

The road network in the province is 903.137 kilometers long. Bridges connecting the national and provincial roads have a total length of 3,633 lineal meters made of steel, 1,425 lineal meters of concrete, 64 lineal meters of bailey and 97 lineal meters made of timber.

AIRPORT

The province has two existing airports namely, the Calbayog Airport and the Catbalogan Airport. The Calbayog Airport, which is considered a secondary airport, ha a concrete surface. It has a total runway length of 1,475 meters and a width of 30 meters. This airport can accommodate aircraft for general aviation (weighing 12,000 pounds and below). At present, this airport serves commercial flights of the Philippine Airlines. Flights from and to Manila are available five times a week using a fokker-50 aircraft.

On the other hand, there are no commercial flights available at the Catbalogan Airport. Classified as a feeder airport, its runway has a length of 1,200 meters and width of 30 meters. It can only accommodate aircraft's for general aviation. At present, construction of the airport is being undertaken.

SEAPORT

Almost all of the coastal municipalities of the province has its own port. However, only the ports in Catbalogan and Calbayog City are classified as national ports. These ports serve inter-island vessels plying Manila, Cebu and other neighboring cities.

POWER

The power needs of the province is supplied by the National Power Corporation (NPC) Tongonan geothermal Plant through the Samar Electric Cooperative, Inc.

Calbayog City is serviced by SAMELCO I. It operates the Capoocan Diesel Power which has a capacity of 250 kilowatts aside from the Ton-ok Mini-Hydro Plant with a capacity of 500 kW per day. Another potential for hydro-generated electricity with an estimated capacity four times more powerful than that generated by Ton-ok falls is the Bugtong Falls in Tinambacan in the same City.

SAMELCO II servicing the District of Samar has attained a total energization of its 15 municipalities including Marabut and the Island municipalities of Daram and Zumarraga. It has the most reliable power in Samar and Leyte since it is the only electric cooperative within the region and of the whole Philippines that has a standby generating unit with a total capacity of 2.5 MW. Aside from this, it is charging a rate lower than the authorized rates approved by the Energy Regulatory Board.

In terms of power stability, SAMELCO II ha two 5 MVA sub-stations located in Paranas and Catbalogan fully equipped with the different electric line materials and accessories needed in servicing a lot more of consumers especially the industrial and commercial ones.

WATER SUPPLY

The source of water in the province comes primarily from artesian wells, jetmatic pumps, springs and communal faucets. The urban center, however, area served by formal water supply systems with potable water through the Local Water District.

COMMUNICATIONS

Public and Private companies service the telecommunication needs of Samar. The province has five (5) radio stations, eight (8) cable TV firms, one TV station and one local newspaper, three telephone exchanges-one operated by the government and 2 by the private, 29 public telegraph stations, 2 private telegraph companies, 3 fax stations and 5 forwarders.

The Telecommunications Office (TELOF), a government-owned communication has uplifted its telephone system by installing direct-distance dialing lines with a capacity of 500 domestic and international calls. The government program to install a public calling office in all municpalities is an on-going project under RA 6849. The Eastern Visayas Telephone Company (EVTELCO) operates one of its six- (6) telephone exchanges in Catbalogan equipped with direct dial facilities for local and international long distance calls.

BRIEF HISTORY

The Jesuit missionaries founded Samar in 1596. They introduced the Roman Catholic faith to the people of Samar. When the Jesuits left Samar in 1768, the Spanish Franciscans took over the administration.

The former names given to Samar were Zamal, Ibabao, Achan and Tandaya. Legend stated that when the Spaniards first set foot in Homonhon, they met a wounded native from whom they asked the name of the place. The wounded man did not understand Spanish. He thought they were asking what happened to him and he replied "samad" meaning wound in the local dialect. So, the navigators adopted the name for the island with a slight alteration of the last letter, from Samad to Samar.

During the early days of Spanish occupation in the Philippines, Samar was under the jurisdiction of Cebu. Later, it was declared a separate province, but in 1735, Samar and Leyte were united into one province with Carigara, in Leyte, as the capital. The union, however, did not prove satisfactory. So, in 1968, Samar has emerged as an independent political unit with Catbalogan as its capital.

On January 1900, the Americans captured the town of Catbalogan. Civil governments were established on June 17, 1902 and Julio Llorente was appointed as the first governor of Samar.

During the administration of Governor Baltazar Avelino, Samar was converted into a first class "A" province. Calbayog City became a chartered city on July 16 by virtue of Republic Act no. 328.